Caroline & District Volunteer Ambulance Service was founded in 1982.  We are a Basic Life Support Service under contract with Alberta Health Services.  We utilize Volunteer PCPs and EMRs to serve the the residents of Central Alberta.
It is Caroline Ambulance's Mission to provide high quality patient focused care through our skilled Volunteer EMS Staff, and to continually strive to enhance our EMS Staff's knowledge of Safety and Patient Care.  
Caroline Ambulance strives to meet the changing needs of our community and surrounding areas for personalized and professional pre-hospital and inter-hospital care, and believes that by keeping up with the ever changing advancements in skills and technology, we can improve the health of our community and save lives. 
Volunteering
If you are interested in volunteering with Caroline Ambulance and you are entitled to practice under Alberta College of Paramedics as a PCP or EMR, please forward your Resume including references to admin@carolineambulance.ca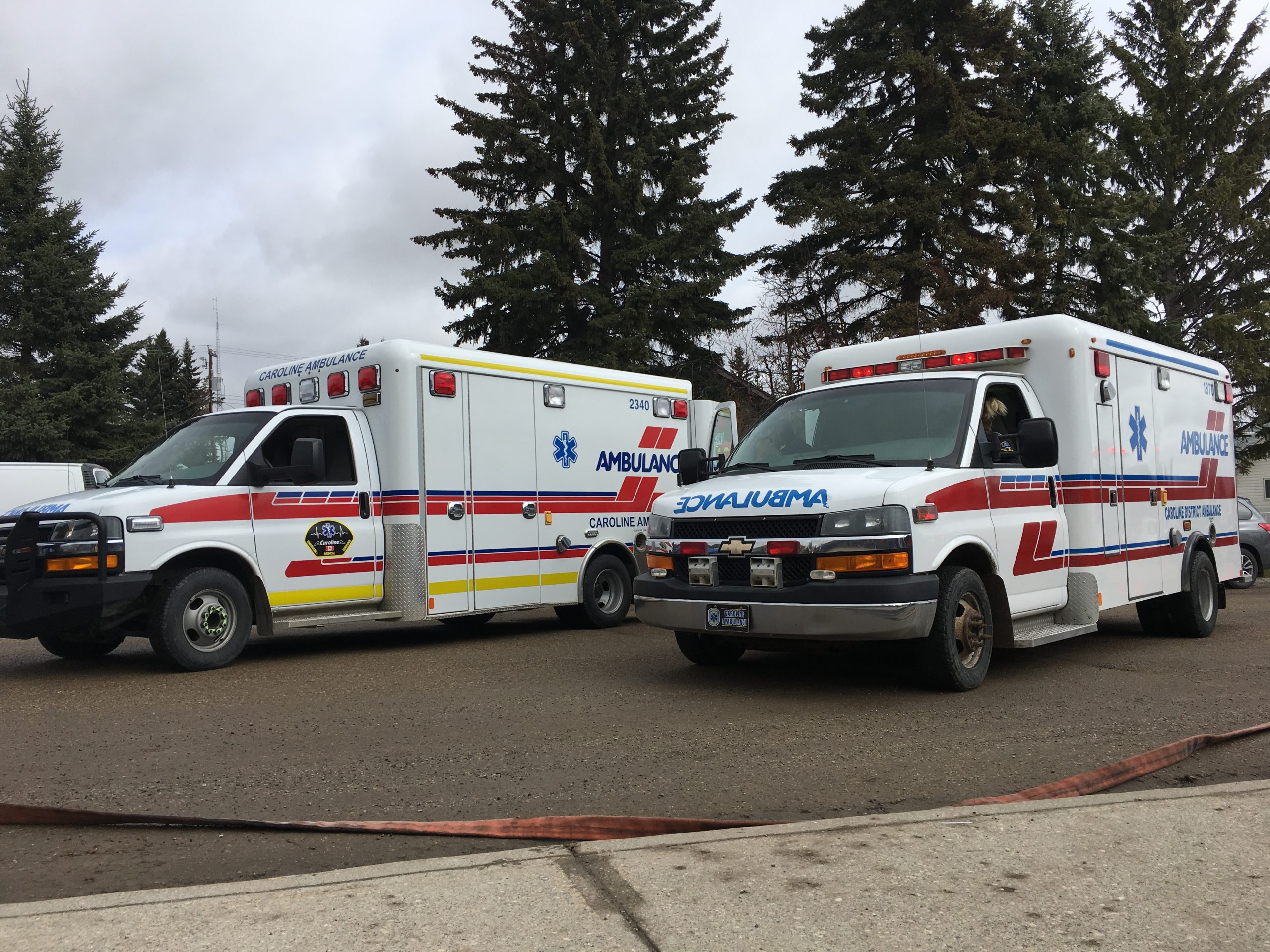 About Us
Caroline Ambulance operates one Ambulance Unit 24 hours a day, 7 days a week with 3 Volunteer EMS Staff.
Our Hall includes full living quarters for our Volunteer EMS Staff to utilize while on shift.
Throughout our ten year journey with Accreditation Canada, we have been able to achieve Accredited with Commendation status twice.
Based on the needs and wants of our Community, we host information sessions for all ages including helping Kindergarteners know when to call 911, to helping County residents know their proper physical addresses, to providing seniors with health and safety information.  If there is a health and wellness initiative or topic you would like to discuss with our Service, please feel free to contact our Office. 
Contact Us
If you would like to bring forward a commendation, concern, or complaint about the care you or a loved one received from Caroline Ambulance, or about Caroline Ambulance in general, please feel free to contact our Office.
Our Office and Hall are located at 4811 50 Street in Caroline.
Our Office is open Monday to Thursday from 9:00am to 3:00pm
Please feel free to call our office at 403-722-3970 during business hours or you can email us any time at admin@carolineambulance.ca
Our mailing address is:
Box 459
Caroline, Alberta  T0M 0M0
Payment Options
If you have received an Ambulance Service Invoice from Caroline Ambulance, we have many payment options available.
If you have coverage through an Alberta Government Sponsored Program, Alberta Blue Cross, or Indigenous Services Canada, please contact our Office to allow us to redirect your Invoice.
Payment Options include:
Cheque - mailed to our Office and payable to Caroline & District Volunteer Ambulance.
Visa or MasterCard - please contact our Office to make arrangements.
Interac e-Transfer - please send the e-Transfer to admin@carolineambulance.ca or contact our Office to make arrangements.
Debit or Visa Debit - please contact our Office to make arrangements.
ATB Financial - if you bank with ATB, you can visit any branch or use ATB Online Banking.  Please use your Invoice number as your account number.
Servus Credit Union - visit any branch